Supporting Community Development in Manchester
In this week's blog post, Manchester residents and partners Vinny, Rebecca, Bola, Patrick, Patricia and Fozia explain the impact working with our Neighbourhood Health Workers has had on them.

The people of Manchester's communities are at the heart of everything we do, and we love hearing from them! Take it away...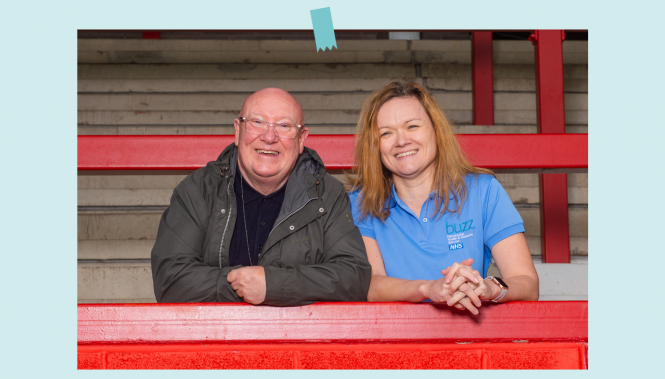 "At FC United Food Hub we've produced over 3,000 meals already, it's been an incredible piece of work and it is down to buzz Manchester and Anna. I first talked to her about the idea of a food hub, she spoke to Rick and then gave me the first £700 grant. It would not have happened without buzz seeing a need, having faith and investing. I can't thank her enough. Sincere thanks to buzz just for being there for people."
Vinny Thompson, Community Liaison Officer, FC United
"Dina is always there at the end of a phone or on email to talk things through and offer information and guidance. Most recently buzz Manchester hosted a Christmas party for our mums. It was so lovely to have all our mums together and we are grateful to buzz who make these events possible."
Rebecca Cahill, Walking Mum's Club
"Matthew Brown has been fantastic working with BAME elders in the community, and our beneficiaries are always happy to see him. He has gone out of his way to check in on our sessions, making sure everything is running well and as it should be. He is a very kind man, coming to speak to our elders, empowering and inspiring them to prioritise their mental and physical wellbeing."
Bola, Openshaw resident
"If it were not for the support of buzz Manchester Health & Wellbeing Service we would never have been able to support the needs of our community. Keep supporting us so we can support others. Thanks to the team."
Fr Patrick Davies, Rector of St Crispin's Church, Fallowfield
"I'm an artistic facilitator and I've delivered two courses for buzz Manchester, weaving on a budget and making sock dolls. I love seeing people's pride in the work they've done, knowing that the things they've learned will be passed on to others, as well as helping them to de-stress at home."
Patricia, Artist, Dynamic Engagement Project
"The library and buzz Manchester partnership have collaborated on a pebble craft activity and coffee mornings for older residents, and a girl's knitting club. We have a wonderful working partnership with Charlee from buzz, and have been introduced to other organisations through working with her."
Fozia, Neighborhood Delivery Officer, Libraries (North Area), Manchester City Council

Have a lovely weekend everyone!
Team buzz, @buzzmanc on Twitter x

---
If you found this page helpful, maybe someone else will too?