Read Easy Manchester Central Tackling Illiteracy & Improving Lives with buzz Manchester
Guest Blogger Donal from Read Easy Manchester Central
I think it must be hard for people reading this article, as it is for me writing it, to fully comprehend what it must be like to be unable to read. Like many adults, I grew up reading and throughout my life I have found it both essential to my daily life, and a source of great enjoyment. It might surprise you that in England today, 2.4 million people have great difficulty reading and around 7 million have very poor literacy skills.
Job applications and progressing within employment demand the ability to read. So, it's no wonder that adults with poor reading are five times more likely to be unemployed. Tenancy, bank accounts, access to credit, all require an ability to read. So, it's unsurprising that illiteracy is associated with poverty, homelessness, and crime. Most of the information provided on the internet and social media is in text form. How then is it possible for an adult to lead a full and socially active life when they are excluded from all of this?
Without the ability to read adults may find themselves socially excluded and pushed into isolation and loneliness. Confidence can sap away as self-esteem takes a daily battering, and this can be harmful to people's mental health. For this reason, Read Easy is very happy to be supported by buzz Manchester Health & Wellbeing Service's Neighbourhood Health Workers. We are thankful for their trusted positions and their knowledge of the communities they serve, to encourage people that have difficulty reading to step forward and get help from Read Easy Manchester Central.
Read Easy Manchester Central is an independent community-based organisation created with the sole purpose of helping adults in Manchester improve their reading ability. We recruit and train volunteers from Manchester to help adults in Manchester.
Our coaching is one-to-one and free. It takes place at a time and in a venue chosen by the reader and their coach from our approved list. Together they work through our phonics-based reading programme at their own pace in two 30 minute sessions per week. Additional specialist help is available, though it is not normally required.
Learning to read can transform a life, improve employment prospects, build self-esteem and foster general wellbeing. Coaching too is an enjoyable and beneficial experience. If you can spare one hour per week to coach someone in their reading, it's a small commitment for a huge reward.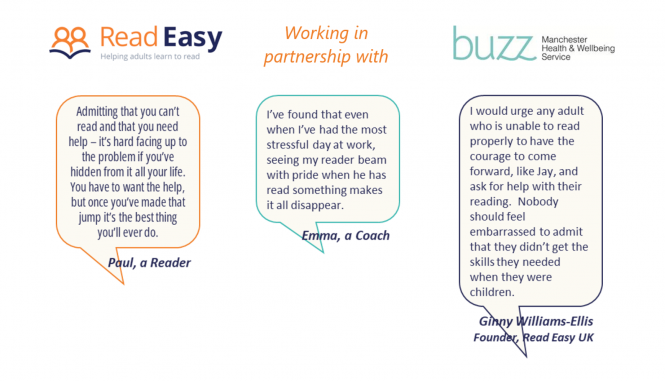 If you know someone who needs help with reading, please encourage them to contact us in total confidence.
If you, or someone you know, are interested in volunteering as a coach, please get in touch. No special qualifications are needed. Full training will be given, and you will receive continued support. Contact us directly (details below) or get in touch with your local buzz Neighbourhood Health Worker.
If you think you have a quiet, public space we can use as a coaching venue, please let us know. Regretfully, we cannot pay to use any space made available.
Contact:
Read Easy Manchester Central
Donal Conroy
Referrals Networker
07974 193 123

---
If you found this page helpful, maybe someone else will too?