Love Your River Irk Family Fun Easter Event!
There are a number of people who care about the River Irk in Lower Crumpsall, the environment, heritage and neighbouring communities. Friends of groups, community hubs and action groups are all scattered along the river corridor, each of which are doing fantastic work to preserve and restore the river.
Groundwork's Love The River Irk project aims to bring these fantastic groups together, share their learning and increase their capacity. The project aims to harness the increased interest in the river environment generated during the COVID-19 pandemic, and encourage more people to connect and volunteer in the natural environment.
Groundwork have teamed up with buzz Manchester Health & Wellbeing Service as we understand the importance of being connected to nature, and the benefits it can have on our mental and physical health and wellbeing. This is why we are hosting a family fun day where we can all get outside, experience nature, and build a sense of community. The Family Fun Day, with the support of buzz Manchester and Mersey Rivers Trust, will take place during the Easter holidays on Wednesday 13th April 1-3pm where we will be doing fun nature and river activities! More information is available on our Facebook event page here.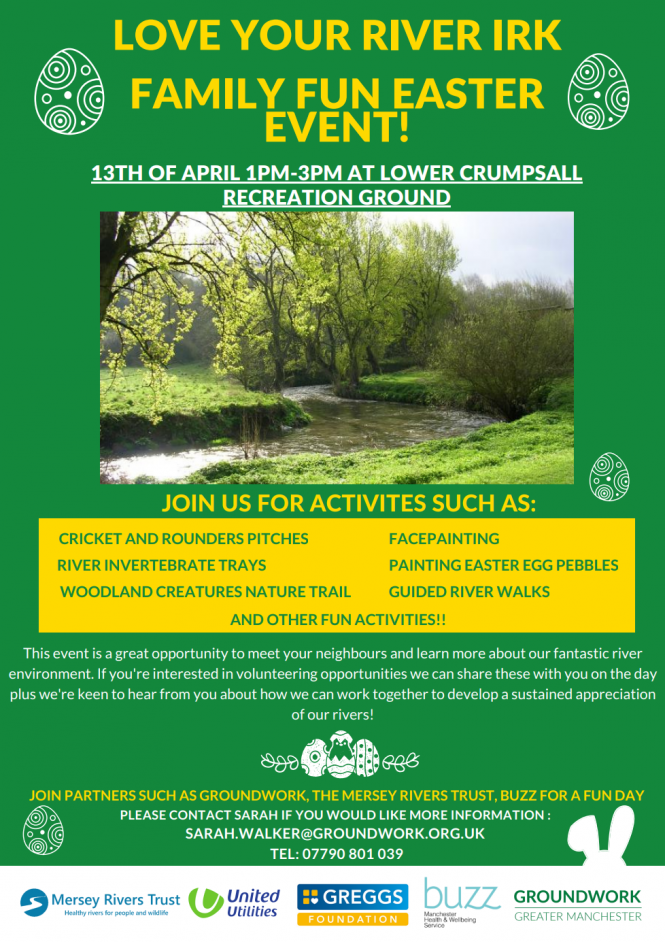 The Love Your River Irk Facebook group is designed to bring together a river based community who can share their activities, concerns and opportunities with other like-minded people.
As well as encouraging and facilitating discussion, Groundwork share a number of opportunities in the Facebook group Love Your River Irk which members can participate in, including free training and development activities.
Find out more on our website here!

If you have any questions, please feel free to get in touch!
Sarah Walker, Community Projects Lead
Sarah.Walker@groundwork.org.uk
07790 801 039
---
If you found this page helpful, maybe someone else will too?