Dementia Action Week
The Alzheimer's Society run Dementia Action Week each year, working with individuals and organisations across the UK to encourage people to act on dementia. This year's week runs from Monday 16th to Sunday 22nd May and the theme is diagnosis.
Forgetting things from time to time is usually normal. But if memory loss is affecting your daily life, it's a good idea to seek help. Alzheimer's Society have produced a video It's not called getting old, it's called getting ill which you can watch right here below!
If you or someone you know is experiencing memory loss, it could be a sign of dementia.
Alzheimer's Society's research shows that the misconception around memory loss being a sign of normal ageing is the biggest barrier to people seeking a dementia diagnosis.

With a drop in dementia diagnosis rates for the first time ever, the organisation undertook research to understand the key barriers and benefits to getting a diagnosis.
As well as the misconception around memory loss just being part of getting old, their research revealed that being in denial, and referral times to specialists, are big barriers for those experiencing symptoms to seek a diagnosis.
This Dementia Action Week it's important that we all work to encourage those who might be living with, or close to someone who might be living with undiagnosed dementia to:
Be able to understand and recognise potential dementia symptoms
Go to organisations like Alzheimer's Society for guidance and support
Feel empowered to take the next step
Here at buzz Manchester we've been taking action this week. Neighbourhood Health Worker Laura has been out in Chorlton delivering The 10 Big Ideas booklet to help make Manchester a better place for people living with dementia. If you'd like to pick up a booklet, you can find them in Chorlton at Costa, Oxfam Book Shop, Benito Lounge and Co-op! You can also view, download and print them right here.
If you work in health and social care in Manchester you can pick up a range of dementia leaflets from our Library in Fallowfield. You can check these all out below, and drop into the 1st floor, Fallowfield Library, Platt Lane, Manchester, M14 7FB to get yours!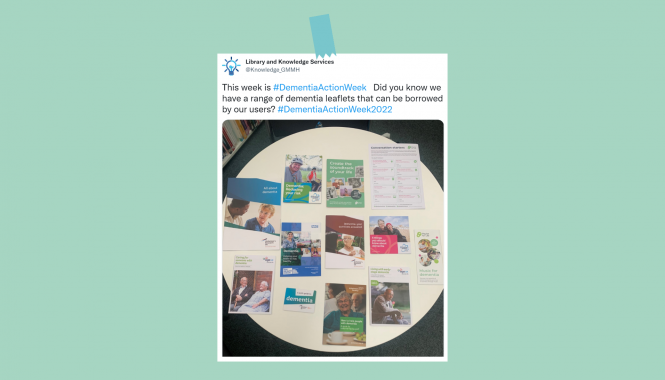 ---
If you found this page helpful, maybe someone else will too?