World Suicide Prevention Day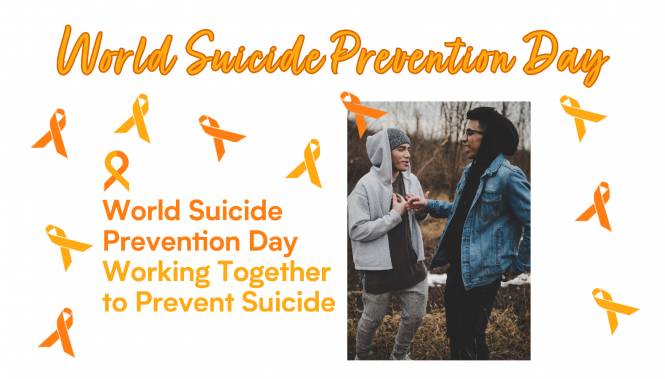 Today is World Suicide Prevention Day 2021, an awareness day observed on 10th September every year to shine a light on suicide, get people talking about the issue, and discover the best ways to help people who feel suicidal.
Suicide and suicidal thoughts affect both men and women, but it's important to highlight that in the UK, men are 3 times as likely to die by suicide than women. In the Republic of Ireland, the rate is 4 times higher among men than women. While there has been a reduction in the number of people completing suicide over the last 10 years, the numbers are still worryingly high. World Suicide Prevention Day aims to start the conversation about suicide and to show that recovery is possible.
This World Suicide Prevention Day we'd like to take this opportunity to direct everyone to some excellent FREE suicide awareness training from Zero Suicide Alliance. This training teaches you how you can help people who might be contemplating suicide by bringing up the subject and offering support.
Why don't you pledge to take the training today to put into action your commitment to help prevent suicide?
In Manchester and Greater Manchester there's some amazing groups particularly dedicated to helping men with their mental health issues. Check them out below!
Andy's Man Club Manchester - Men's mental health support group in Manchester. This is a talking group for men who have either been through a storm, are currently going through a storm or have a storm brewing in life. Open to ANY man over 18, every Monday (except bank holidays), 7pm at Federation House, 2 Federation Street, Manchester, M4 4BF. #ItsOkayToTalk
Directions For Men - Men's peer support group working to reduce male suicide by getting men talking and supporting each other through tough times and participating in activities.
Tackling Minds - Free fishing for people with mental health issues. Women are welcome too.

________________________________________________________________________________________________________________________
Follow us on Twitter @buzzmanc #buzzManchester for daily health and wellbeing news and conversation, you can also further explore buzzmanchester.co.uk to learn more about the work we do out in Manchester's communities. If you would like to contact the buzz Neighbourhood Health Worker for your community, please email buzz@gmmh.nhs.uk and we'll get you connected!

---
If you found this page helpful, maybe someone else will too?