Being Age Friendly Training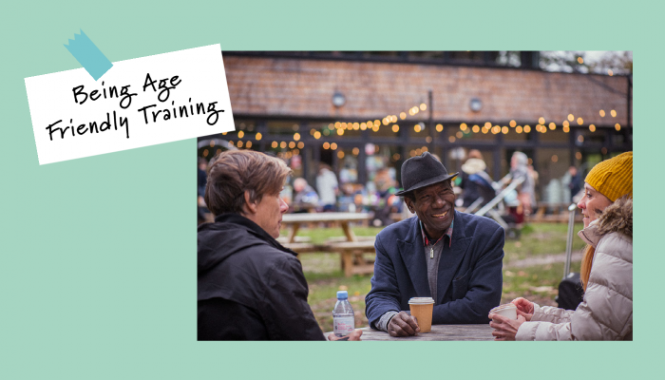 Being Age Friendly training explores why being age friendly should be everyone's business. The training has been designed using the expertise of our Age Friendly Neighbourhood Health Workers, Knowledge Service, World Health Organisation, Age Friendly Manchester, and older residents themselves.
Our Age Friendly Team would like to invite you to join them for one of their upcoming online training sessions on: Tuesday 12th October 10am - Midday or Thursday 21st October 1 - 3pm
The Basics of Being Age Friendly Training - Tuesday 12th October 10am - Midday

The Basics of Being Age Friendly Training - Thursday 21st October 1 - 3pm
This training is targeted at groups and organisations who are looking to develop new ways of working to improve access for older residents within communities.
The aim of the training is to challenge stigmas around ageing, improve knowledge around the World Health Organisation's recommendations when building age friendly communities, and encourage attendees to think about their own inclusive practice and improvements that could be made for older people accessing their group/service.
The training is interactive and helps learners build on their knowledge whilst participating in fun and educational activities. The sessions also highlight actions that are being taken regionally in Manchester, and nationally across the country, to create age friendly services, age friendly neighbourhoods, and steps being taken to bring about age equality.

For more information on this training, or if you have any questions you'd like answering, please contact buzz Age Friendly Neighbourhood Health Worker Yasmin by emailing Yasmin.Holgeth@gmmh.nhs.uk.
Have a great weekend everyone!
If you aren't following us on Twitter yet we're @buzzmanc.
Team buzz x
---
If you found this page helpful, maybe someone else will too?