Guest Blogger Phil, NHS Counsellor, takes over for Mental Health Awareness Week...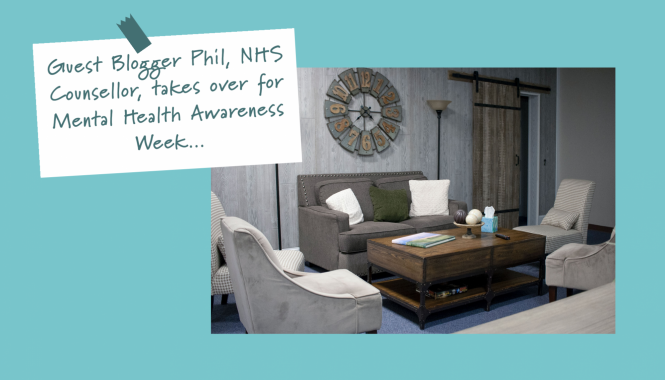 Guest Blogger Phil, an NHS Counsellor, takes over the blog this Mental Health Awareness Week. Phil is currently supporting our Age Friendly Neighbourhood Health Workers to reduce the stigma around mental health amongst older people, and also help raise awareness of talking therapies...

__________________________________________________________________________________________________________________________
I have worked as a Counsellor in the NHS since 2007. My service is part of a nationwide programme called Improving Access to Psychological Therapies (IAPT). We provide talking therapies for people who may be finding life difficult to cope with, who feel stuck or lost, or who may be experiencing unwanted feelings, or doing things that upsets or troubles them. What drew me to counselling was seeing how mental illness could affect any one of us (I saw it in my own family), and how we all can be affected by loss and bereavement (including myself).
Over the years I have been aware of how few people over the age of 65 come into our service for support. Perhaps before therapy was available on the NHS, people would talk to relatives, neighbours or friends about problems, or they might just bottle up their feelings and try to ignore them. The problem is that sometimes our silence or avoidance makes the problem worse.
As we get older we may experience issues that upset us such as:
The illness or death of a loved one or friend
A deterioration in physical health
Retirement - the end of our working lives (which may leave us feeling lost or stuck)
Loneliness
Feeling that our lives are over and we want to die
In our service, there are 2 main types of talking therapy that we offer, Cognitive Behavioural Therapy (CBT) and Counselling.
CBT helps us to challenge and change unhelpful thoughts or how we behave, which can help us to cope better. Homework is also completed in between sessions to test ideas out.
Counselling helps us to understand how we feel about ourselves and others because of something that may have happened, or what we may be struggling to cope with or accept, such as: difficult relationships, childhood experiences or certain life events.
These problems can make us feel anxious or depressed and we might be reluctant to tell anyone, including our doctor or other health professional, as we may feel embarrassed or ashamed that we're not coping well. Your therapist will not judge you or tell you what to do. Instead, they will help you to understand why you feel, think or behave in the way you do so that you can learn how to change this.
To access our service, you can ask your GP (or health professional) to refer you, you can call Self Help Services on 0161 226 3871, or self-refer online here.
Here are two case studies, it is important to state that the names in these case studies have been changed to ensure they're anonymous.
Peter

Peter was 78 when his wife had noticed how forgetful he had become. Peter's wife found him crying in the garden one day but he couldn't explain why. After visiting his GP, Peter was diagnosed with dementia, but the GP suggested that it might be helpful to talk to someone else about how he was feeling. Peter was worried that he might forget what was discussed in his counselling session so the counsellor suggested that Peter could use his mobile phone to record the sessions which he could play back to remind himself of their discussions.
Counselling helped Peter to come to terms with his dementia, and helped him to focus on making the most of each day with his wife and family. He went on to continue to enjoy pastimes such as gardening and playing bowls with his friends.
Margaret

Margaret was 93 when she told her doctor about the frequent panic attacks that she was having, and she was referred for talking therapy. Margaret had been a teacher, and when she retired, she volunteered at her local theatre. More recently, Margaret had to give up her community work due to her anxiety, and the frequent panic attacks made her convinced that she was about to die.
Margaret's CBT therapist explained how Margaret had become stuck in a cycle of worry and anxiety, which led to panic attacks. Margaret was able to challenge her beliefs with the evidence she had, as her doctor had told her there were no concerns and that she was in good health. Margaret began to think about other reasons why she felt so anxious, such as no longer being as physically or mentally active as she had been, and feeling that she was letting others down. Margaret began to realise that at the age of 93, her role had changed, although she still felt part of the community.
Margaret accepted that she was now fully retired, and although she kept physically active by walking, her anxiety improved when she began to come to terms with this stage in her life.
Some clients' comments about attending therapy:
"I didn't think talking about my problem would do any good, but it has helped me to understand myself and look at problems in a different way."
"I feel that I can let go of what happened in the past and finally begin a new chapter in my life."
"This is the first time I have been able to hear myself."
"My therapist asked me questions that I didn't realise I knew the answers to."
"Therapy helped me to get my bearings and put my thoughts in order."
For more information about Self Help, and if you'd like to refer yourself for CBT or Counselling, visit the website here.
If you know of someone, a family member or friend, who could benefit from our services please tell them to visit the site at selfhelpservices.org.uk, call 0161 226 3871, or email us using one of the email address on this page. You can also send a tweet to @WeAreSelfHelp.
---
If you found this page helpful, maybe someone else will too?