Black History Month & Beyond! Guest Bloggers Patsy & Emma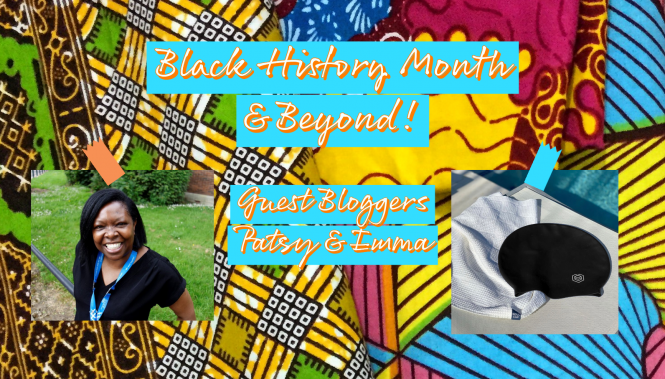 It's Black History Month & Beyond! Throughout October and beyond, so all year long, we're celebrating the amazing work black people are doing out in Manchester's communities! For Black History Month & Beyond this year, the focus, inspired by the 2020 Black Lives Matter events, is Proud To Be. The campaign invites black and brown people of all ages throughout the UK to share what they are proud to be. For example, Proud To Be Black, Proud To Be Brown, Proud To Be Black & LGBTQ+, Proud To Be Me!
We're starting out celebrations with a Guest Blog from buzz Neighbourhood Health Worker Patsy and Emma from Soul Cap, a local black-owned swim brand.
Patsy, buzz Manchester Neighbourhood Health Worker: "As a swimmer myself I had been using a standard swimming cap that didn't stay on my head, and I was constantly battling with the maintenance of my hair after swimming. I came across an article about the ban of the use of Soul Cap in swimming, and that's when I first discovered the Soul swim cap.
I ordered myself one and was so impressed with it that I decided to start up a project to get more black women swimming. I asked local black women some questions about swimming, such as if they could swim, what stopped them from swimming, and would they take up swimming if they had a swim cap that would protect their hair?
The answers I got were yes, I would try swimming if I had a suitable cap to wear. So I decided to set up a project to encourage black women to learn to swim or get back into the pool. I contacted Soul Cap, and Emma and I found out we shared the same vision, to get black women swimming and enjoying the health benefits the activity brings!"
Emma, Soul Cap: "It's been great to work with Patsy from buzz Manchester Health & Wellbeing Service to encourage more black women to get swimming. We have donated a range of our swimming caps in a variety of sizes, such as medium and large to XL and XXL to accommodate all hair types and lengths, including braids, locs and voluminous afro hair.
Soul Cap is a local black-owned swim brand founded by best friends Michael Chapman and Toks Ahmed. They both grew up without learning to swim, and in 2017 joined an adult swimming class to learn together. During those classes, they met a woman with afro hair who was struggling with the tight fit of her swimming cap.
After talking to their friends and family, they realised there wasn't a solution for swimmers with afro hair, locs, braids or any kind of voluminous hair, so they decided to create their own."
Patsy, along with other buzz Neighbourhood Health Workers, had a stall at the Caribbean & African Health Network's Black History Month Launch Event at Manchester Cathedral last night. Patsy had conversations with local people about her swimming project, encouraging them to get involved and handing out Soul Caps to people who were interested.

If you want to get in touch with Patsy about her project, you can call or text her on 07818 523 098, or email her at Patricia.Williams@gmmh.nhs.uk
Here's a photo from the event...
What are you doing to celebrating Black History Month & Beyond?! Let us know by tweeting us @buzzmanc!
---
If you found this page helpful, maybe someone else will too?