Remaining an Active Citizen during Lockdown/Social Distancing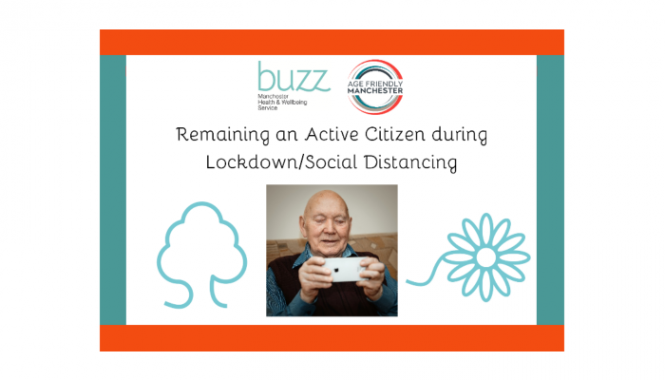 During lockdown we have seen the emergence of lots of mutual aid groups with neighbours supporting neighbours and residents wanting to find ways to support people in their community.
The buzz Age Friendly team is aware that for some of us, lockdown means strict social distancing or shielding, and this can make people feel as if they have lost their independence and cannot support their communities in a meaningful way.
This is why our Age Friendly team Yasmin, Megan and Simon (photo below) have put together a list of ideas around things we can do to remain an active citizen in lockdown without leaving the house:
Help grandchildren with their homework (if you're not living together, this could be done over the phone or using a video call)
Ring everybody in your phone book, you never know who needs a chat!
If you're online, join your local COVID mutual aid group and find administrative tasks that will help them to deliver what they are doing. Find out more here: covidmutualaid.org/local-groups/
Create window display art work to brighten up your street
If you can sew, try making facemasks for other residents on your street, or for volunteers who are supporting local COVID mutual aid groups. You can find different methods to make facemasks online, here's an easy video: youtube.com/watch?v=VNvRl5AXt8I
If you're good at video calls, why not set up a zoom/skype social group for people in your local neighbourhood? You can set a talking point each day, or just provide a set time when people can check in for a cup of tea and some company!
Let us know if you decide to take up any of our ideas, we would love to hear how it went: Email Yasmin.Holgeth@gmmh.nhs.uk or call 07425 536 823.
In two weeks the buzz Age Friendly team will be launching a Facebook page to provide a space for city wide age friendly initiatives, campaigns and research to be promoted and we want you to get involved! We will be using this page to challenge images of ageing across the city and we would love to see photographs of what you have been doing during lockdown to stay active within the home. This could be baking, connecting with friends over the phone, volunteering, learning something new… Whatever has been keeping you happy and healthy, we want to know!
If you would like to get involved get in touch with Yasmin.Holgeth@gmmh.nhs.uk
You can also tweet and follow us @buzzmanc on Twitter! #buzzManchester
---
If you found this page helpful, maybe someone else will too?