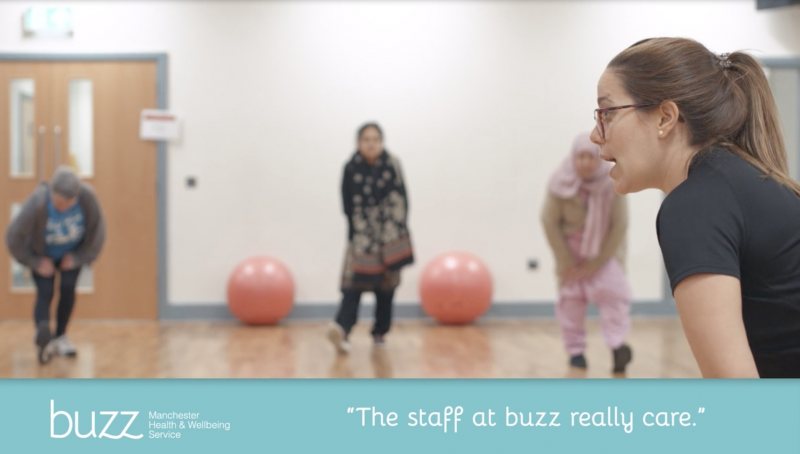 Physical Activity Referral Service
If you have a long term physical health condition then PARS can help you to increase your levels of activity.

The Physical Activity Referral Service (PARS) helps people living with long term health conditions to increase their levels of physical activity in a safe and structured environment. The service provides health screening, advice and access to exercise, led by highly qualified exercise professionals. The sessions are run across Manchester in local leisure and community centres. The service offers a range of different types of activity and you will be told about these during your appointment and advised on the most suitable type of activity for you. There will be a small charge for each activity that you take part in, either within the PARS service or within Manchester Leisure Services and Facilities.


The PARS team have launched a Facebook page where you can find a wide range of exercise videos and tips so you can get moving at home. Why not get involved by liking our page here? You can also find these videos on our YouTube channel here.

Why would you be referred to PARS?

You would be referred because your doctor or your healthcare professional feels that your health will benefit if you are more active in your everyday life. Physical activity has a positive effect on many long term health conditions including heart disease, diabetes, cancer, and many more. It can also reduce the risk of healthy people developing these conditions. Being active regularly is also important in helping to maintain a healthy weight.

What happens at the initial appointment?

Before you start exercising with PARS you will receive an invite to attend a clinical appointment. At this appointment your health and suitability for taking part in physical activity will be assessed by a Physical Activity Referral Officer (PARO). You will be given specific advice on activities and exercises that will benefit you, taking into account your own personal health conditions.

As part of the assessment you will be weighed and the PARO will take your blood pressure, which will help us to assess your suitability for the different types of activities.

The PARO will discuss and agree with you what you want to achieve from your referral to the PARS team. These goals will be reviewed at all follow up appointments. The goals will help us to recommend appropriate exercise sessions for you. The PARO will give you follow up appointments for 3, 6 and 12 months to be reviewed.

What happens after the appointment?

Following the appointment you will attend local exercise classes or other activity sessions as discussed and agreed at your initial appointment with the PARO. You will be provided with support and advice at the sessions about how hard you should work and the progression of the exercises. It is expected that you will attend these sessions for a minimum of 12 weeks.


At 12 weeks you will be asked to attend your first follow up appointment where the PARO will review your progress and possibly refer you onto similar activities with Active Lifestyle Programme (ALS) or other classes in the community, or local leisure provider.

What happens after 12 months?

After 12 months most people will be discharged from the scheme and you will be expected to continue your activities independently or with support from ALS or the gym. It is expected that after 12 months most people will be confident enough to continue to be active in a suitable and safe activity.

What is expected from you?
We expect you to attend all four appointments
To regularly attend the classes or activities that are recommended to you by the PARO.
What can you expect from PARS?
Regular checks (as described above) to ensure you are active at the right level.
We will also recommend the types of activity that we feel are most suited to your needs taking account of your personal preferences.
Support for you during the 12 months.
We will let you know who to contact if you have any problems.
Your GP, practice nurse or health professional will be able to sign post you to our service.
For more information on the Physical Activity Referral Service please contact the PARS Team on: 0161 271 0505 or physicalactivityteam@gmmh.nhs.uk
---
If you found this page helpful, maybe someone else will too?