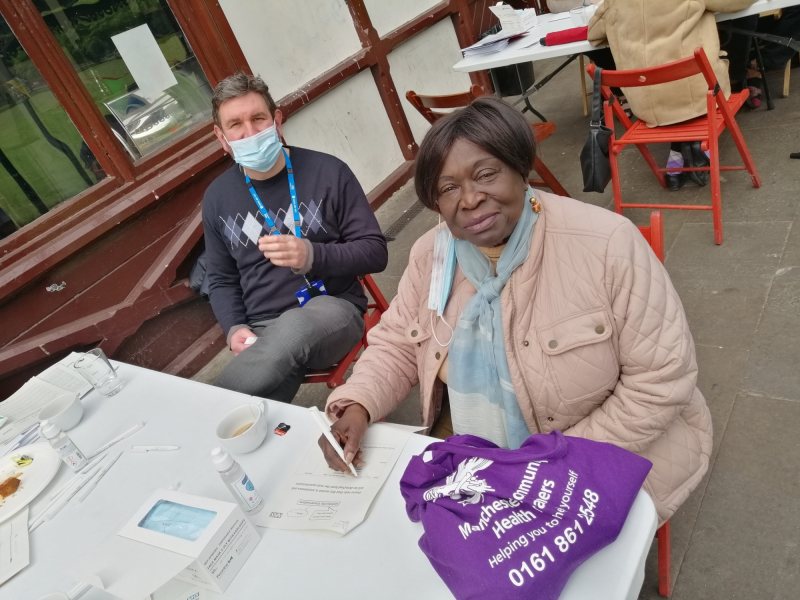 Age Friendly Communication Webinar
Involving older people and age friendly network members in sharing guidance on what makes good age friendly communications.

Aim

This online event was targeted at individuals who run community activities for older people, to help them learn more about getting the word out about what's going on in their neighbourhood.

During this event we delivered a presentation alongside older residents from the Hulme & Moss Side Age Friendly Board to share our Age Friendly Communication Checklist. This was designed using a combination of existing evidence from reliable sources and the input of older residents from the city of Manchester: https://tinyurl.com/u6ys44u3

Location

City wide


Benefits of promoting equality and diversity

Promoting equality and diversity helps build strong, trusting relationships within communities. People feel safe, less isolated and more able to actively contribute to decisions about the community. It can have positive impacts on employment and the local economy. Valuing diverse experiences can help develop unique and innovative solutions which are specific to the community. Workplaces that promote equality and diversity see increases in productivity, creativity, problem solving and revenue.

Benefit of sharing information

Newsletters may help people to feel part of their community and contribute to building strong communities. They can be an effective method of delivering health and social advice resulting in positive behaviour changes, although they may not be effective for those with a low education level. Communicating information through social media can help to reach traditionally harder-to-reach groups and offer a rapid and collaborative way of communication.

Evaluation


Delivering this presentation had multiple positive outcomes:
Promoting the work that buzz have been doing with residents across the city.
Promotion of the age friendly training we have created to deliver with services and organisations across the city.
It empowered older residents to speak out about what age friendly communications means to them and why it's important. Here is an example: "Promoting your information in the libraries is a good place to find people like me. I pick up information from there when I want to know what's going on. Libraries are a place where communities connect and find out information about what is going on in the area. They have notice boards as well."
Project Team
buzz Manchester Health & Wellbeing Service Hulme & Moss Side Age Friendly Board
Ambition for Ageing
Strategic links to local/national policies (promoting equality and diversity)
Research/evidence base
Ambition for Ageing (2020) - A Toolkit for Inclusion in Practice
Community Toolbox - Building Inclusive Communities
Disability Rights UK (2014) - Inclusive communities: A research report
Good Things Foundation (2018) - How we build inclusive communities
Manchester City Council - Equality Objectives 2020 - 24
World Economics Foundation (2019) - The business case for diversity in the workplace is now overwhelming
Strategic links to local/national policies (sharing information)




Research/evidence base
Capurro et al (2014) The Use of Social Networking Sites for Public Health Practice and Research: A Systematic Review. Journal of Medical Internet Research, 16 (3), e79
Panza et al (2020) Evaluation of an intervention aimed at supporting new parents: the Baby Newsletter project. Italian Journal of Pediatrics, 46 (1), pp. 123-
Brewer et al (2020) Emergency Preparedness and Risk Communication Among African American Churches: Leveraging a Community-Based Participatory Research Partnership COVID-19 Initiative. Preventing Chronic Disease: Public Health Research, Practice and Policy, 17, e158
Bruce et al (2006) Case Study: The Role and Impact of Community Newsletters in Fostering Social Cohesion and Community Development. Journal of Rural and Community Development, 1 (2), pp. 176-185
Contact

Yasmin Holgeth - Age Friendly Neighbourhood Health Worker
Mob. 07425 536823
---
If you found this page helpful, maybe someone else will too?
"The access, support and socialisation of effective exercise provided by the PARS Team is both vital and empowering."
Martin, Vascular Specialist Podiatrist, Manchester Leg Circulation Service (PAD)